In the past, residual income opportunities was something only available to a fair few. Traditional residual or "passive" income streams included professions such as being an author, a musician, investing in shares of a company and so on. Luckily, times have changed. With the rise of the internet, it's now easier than ever to make a residual income through online income streams. In this article we'll cover what residual income is and how to make residual income, providing you with 8 legitimate ways to make residual income that you can get started with today.
What Is Residual Income?
Linear vs. Residual Income from Ukandoo Academy
Before we get started it's important to actually understand what residual income actually is.
A residual income, sometimes referred to as a "passive" or "recurring" income, is an income that regenerates itself once you've put the initial effort in. A traditional example of this would be an author, whereby after putting the initial effort into writing their book, will receive royalties for every book purchased – hence earning a residual or "recurring" income.
Most people spend their whole working life making a linear income. This is where you trade your time for your money, aka your traditional 9 to 5 job. Stop working? Stop earning. Many people have heard of residual income but few actually know how to make residual income outside of the traditional routes. Their knowledge on it, through no fault of their own, is simply outdated. The opportunity (not to mention accessibility ) of the everyday person making residual income online just hasn't be fully realised yet. In many ways, making money online is still in its infancy.
The fact of the matter is, rich people don't get rich for doing nothing. Building residual income streams takes time and persistence, it's rarely a case of overnight success. That being said, the rewards of creating residual income streams whether that be some extra side cash, or the ability to remove yourself from the humdrum of the 9 to 5 all together, is more than worth it. Now that's out of the way let's break down how to make residual income.
How To Make Residual Income:7 Ideas That You Can Start Today
Making residual income has never been easier. Period. Before you go putting up obstacles or jumping to conclusions let's just get that out of the way.
As previously mentioned, you may already have some pre-conceived notions about what residual income is and who can actually earn a living off of it. With advances in technology and the internet now being accessible across the globe, there has never been a better time to get started. You needn't been an author, a musician, an actor, a business man or anything of that matter to be able to set up residual income streams. No matter your background, skillset, age, education and so on – as long as you're willing to learn, to try and to stick with it, creating a residual income stream is something that can be done by anyone. So let's get started.
1. Affiliate Marketing (creating niche websites or social media channels)
The first method in how to make residual income may seem to some of you, rather outdated. Affiliate marketing is when you sell other people's products or services in return for a % commission of that sale. Most of us have heard of affiliate marketing before, perhaps in the the traditional person to person sense. It's often looked down upon as a rather cheap or sleazy business method – the stereotypical door to door salesman or sellout business man. How things have changed.
Affiliate marketing through niche sites and social media channels has only been made possible through the internet, and with more and more people engaging online and using social media, the opportunity of making money online grows. The great thing about both of these methods, especially niche sites, is that it no longer requires the pushy salesperson tactics that are so synonymous with affiliate marketing. The people who are interested in such products or services actually come to you!
Creating a niche site involves some technical know-how but far less than most people think! These days it's never been easier to set up your own personal blog site using content management systems like WordPress or Squarespace. The point of niche sites is about creating a website for a particular interest or problem and providing them (your audience) with information or a solution. It helps if it's something you're passionate about, and therefore already have knowledge, interest and experience in – this also makes for far more compelling, enjoyable and useful reads!
For instance your niche site could be about being both a marathon runner and a vegetarian. This type of niche site hones in on two very big passions (and niches) and combines them into something personal that showcases an integral part of your identity. On here you could provide quality information all about a vegetarian diet and lifestyle, recommending various cookbooks or courses. You could set up amazon affiliate links to your favourite pair of trainers and other marathon related gear that you find most effective. Obviously the point of your niche site isn't to just sell, sell, sell. You're providing your audience with useful information, sharing personal experiences and insights as well as fostering a community of like-minded individuals. That's the beauty of it.  You're not having to "push" anything onto them, as you're targeting a very specific, tailored, "niche" audience.
2. Setup a T-Shirt Business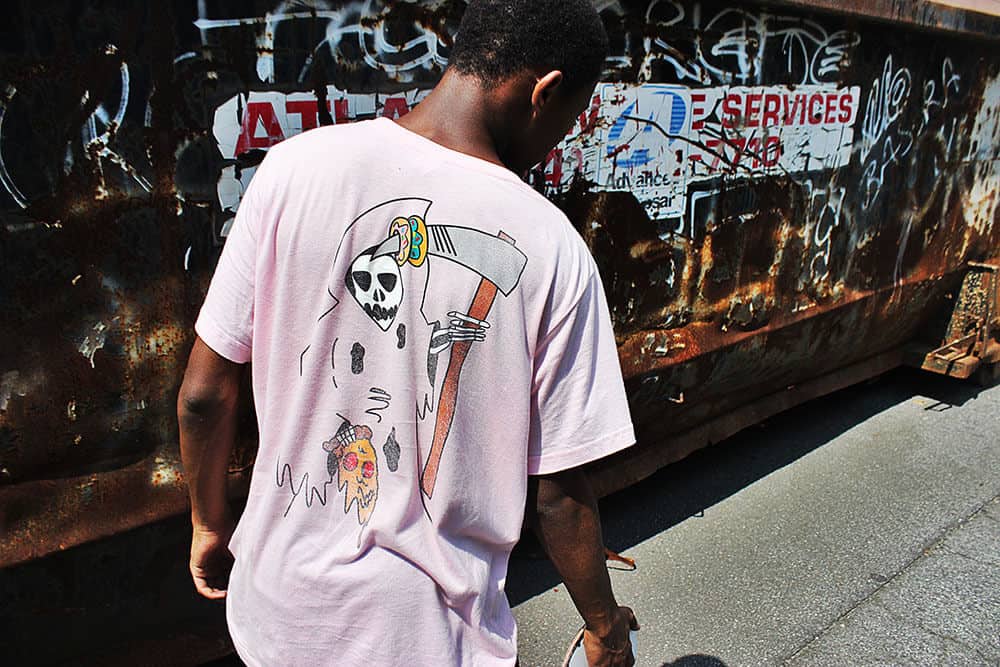 How to Make Residual Income: Start a T-Shirt Business
The t-shirt has become the staple piece of casual wear for both men and women. Because of this, selling t-shirts online has become a popular business choice for artists and entrepreneurs. What's more, with print-on-demand services such as Teepspring.com, starting your own t-shirt business have never been easier!
Print on demand services enable you to set up your own shop, design your tees and sell them without having to buy, manage or fulfil any of the orders! The entire process is free to setup with the print-on-demand service obviously taking a % cut from any sales you make.
The hardest part about starting an online t-shirt business is simply building your brand and standing out from the competition.  To be successful you need to make sure you've established your niche, your design style, the quality of your tees and have strong brand identity. For t-shirt design inspiration we recommend sites such as RedBubble or you can buy designs from Creative Market.
3. Creating an Amazon Associates Store
Creating an Amazon Associates store is like creating your own online store. Anyone can be an Amazon Associate – sign up is simple and free.
Once you've made your account, Amazon has made it very easy for their associates (affiliates) to set up their own online store. With Amazon Associates you can choose your own layout, search up and add the products that you would like to sell and boom you're done. You can then link your Amazon Associates store to your personal blog, website, social media channels, YouTube description box and so forth. When someone goes to your store and makes a purchase through your link, you earn a % of the sale as a commission at no extra cost to them.
Similar to niche sites, with an Amazon Associate stores we recommend that you choose a particular theme or niche. For instance, if you're a practising yoga teacher, your Amazon Associates store may be all products relating to the Yoga fitness niche – yoga matts, yoga clothes, yoga balls, meditation CDs, yoga books and so on. This can be a great way to showcase your 'favorite' products if you're considered an expert or knowledgeable in a certain field.
This of course, doesn't have to be the case. If you have a substantial presence online for just being 'you' then by all means recommend whatever tickles your fancy!
4. YouTube Channel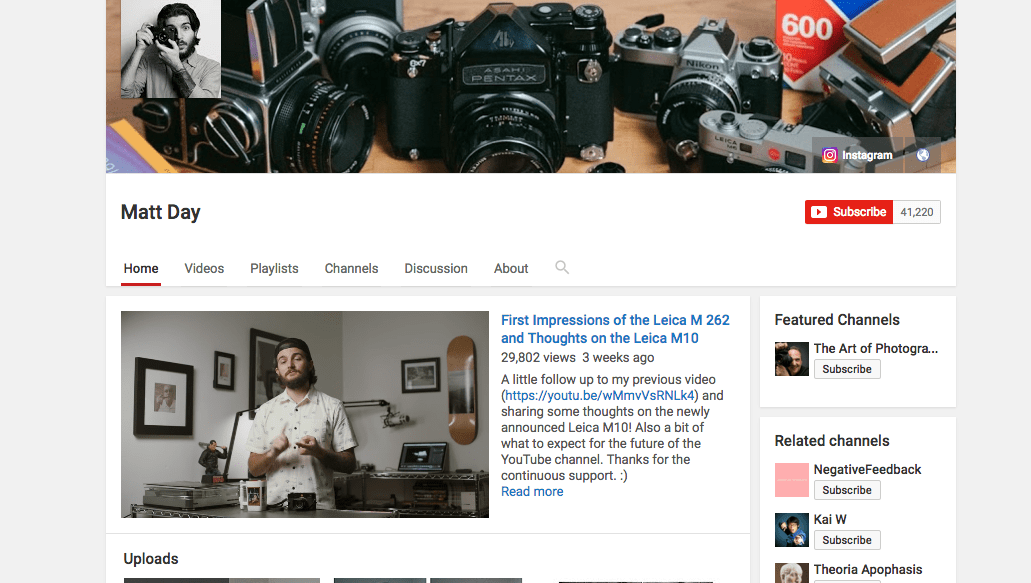 How to Make Residual Income: Start a YouTube Channel
We'd be rather gobsmacked if you haven't heard of YouTube. YouTube has become an increasingly popular platform over the years, boasting over a billion users (1/3 of all people on the Internet) and generating millions of views everyday. What's more, YouTube on mobile alone (not including tablets) reaches more people aged 18-49 in the US than any TV network.
Having your own YouTube channel can be a fantastic way to earn an income, get new clients, build an email list and so forth. How you utilise your channel and your audience is up to you. It also largely depends on what your channel is about. Take the example above, Matt Day has identified his channel subject, photography, and so he mainly earns an income through providing affiliate links to the gear he reviews.
So how does one make money through YouTube? Here are a few examples:
affiliate marketing – providing affiliate links in your video description box e.g. amazon affiliate links
patreon – enables your audience members to support you through by paying a small subscription fee towards your content
google adsense – everyone has the ability to monetize their videos with google adsense
brand deals – brands pay you to feature, promote or review their products
merchandise – have a loyal fan base? you can utilize this by using print-on-demand services to create t-shirts and merchandise for your channel
With the number of creators on YouTube growing each day, it can be hard to get your videos recognised in this vast digital space. That's why it's important that when you create your channel, you have a good idea of what it's all about. That way it's a lot easier for people who come across your channel to instantly get what you and your channel is all about. Of course that said, not all channel's have to be personal. Whilst commercial channels don't usually do too well (excluding news and talk hosts) they can be a great way to give your company and brand exposure, to get feedback from people and gain new customers.
5. Stock Photography, Videography and Audio Jingles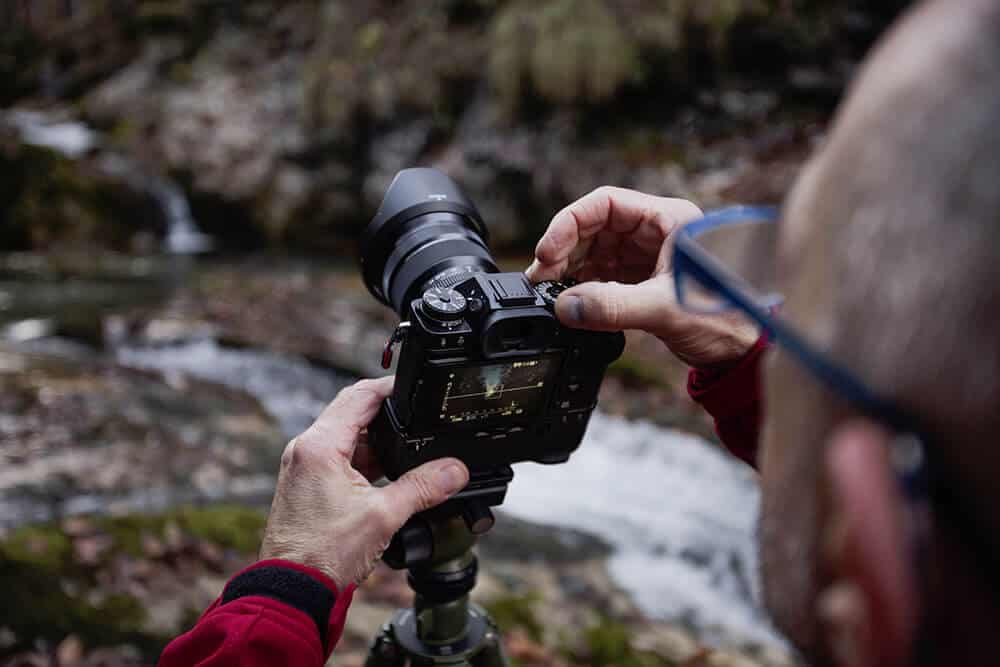 How to Make Residual Income: Stock Photography, Videography, Audio Jingles
Instead of companies hiring high-paid photographers, videographers and performers, they can buy individual photos, films and jingles online. If you  have a skill, talent or even just an practising enthusiast in any of these, you can make money by selling them.
There are many stock photography, film and audio jingle websites out there. The great thing about it is, once you've put your work up there, you don't have to do anything else. It's up there for good, you don't have to promote it or try and rank it, their search engines and large user-base does that for you.
6. eBooks for Kindle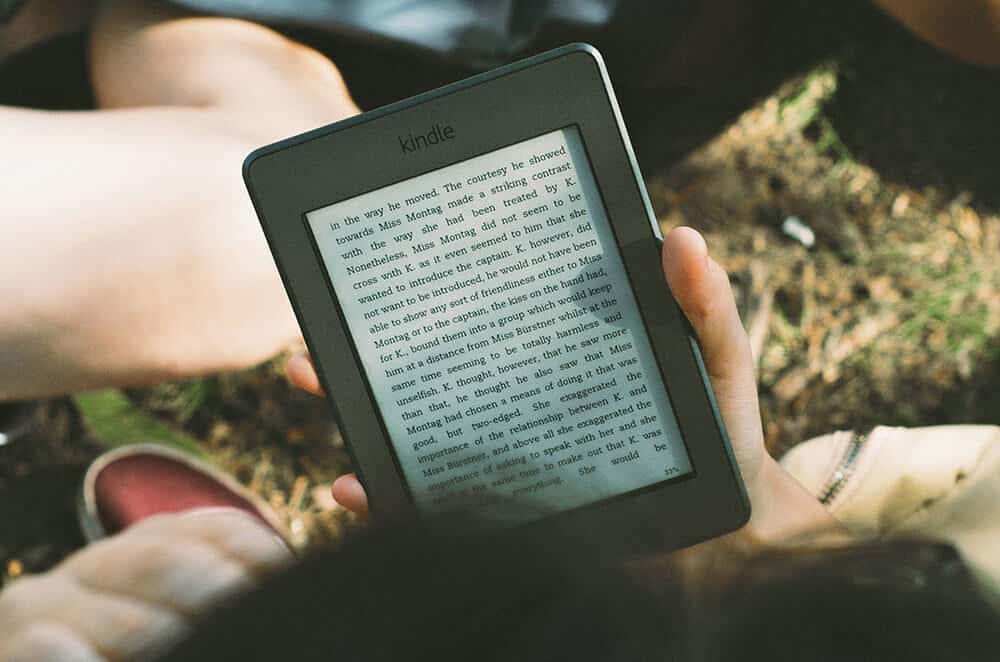 How to Make Residual Income: Publish an Ebook to Amazon Kindle
Creating eBooks is another great method for building residual income, and it's one that's often overlooked. Many people assume that because they haven't got a qualification in writing, or don't consider themselves to be an 'author' or serious writer, that they can't get their work published via Amazon Kindle. Well, we're here to tell you it's not true. Many have found great success with eBook publishing to Kindle, so how do they do it?
Put simply, information products. Not everyone has the knack to write a great story, in fact very few people have that talent. But, most of us have a passion, a hobby or a personal problem in our lives that we have learnt from or know a lot about. Informational eBooks are a great way to earn residual income because they don't take that long to write and they also come from a place of personal experience or passion. For instance, if you're a vegan and also a marathon runner – you could write an eBook all about how you stay fit, healthy and get your nutrients as a vegan marathon runner. You could provide your personal story, recipes and so on. The options are endless.
When it comes to writing a good, successful informational eBook it's all about touching on one of two things: passion or a problem. Your eBook should either be about something you're passionate about, a niche which other people are too, or a solution to a problem. It helps to look up on the Amazon Kindle store and see what types of eBooks in your 'niche' are already out there. Signing up to Amazon Kindle store is completely free and becoming a published author has never been easier.
7. Building a Mini Course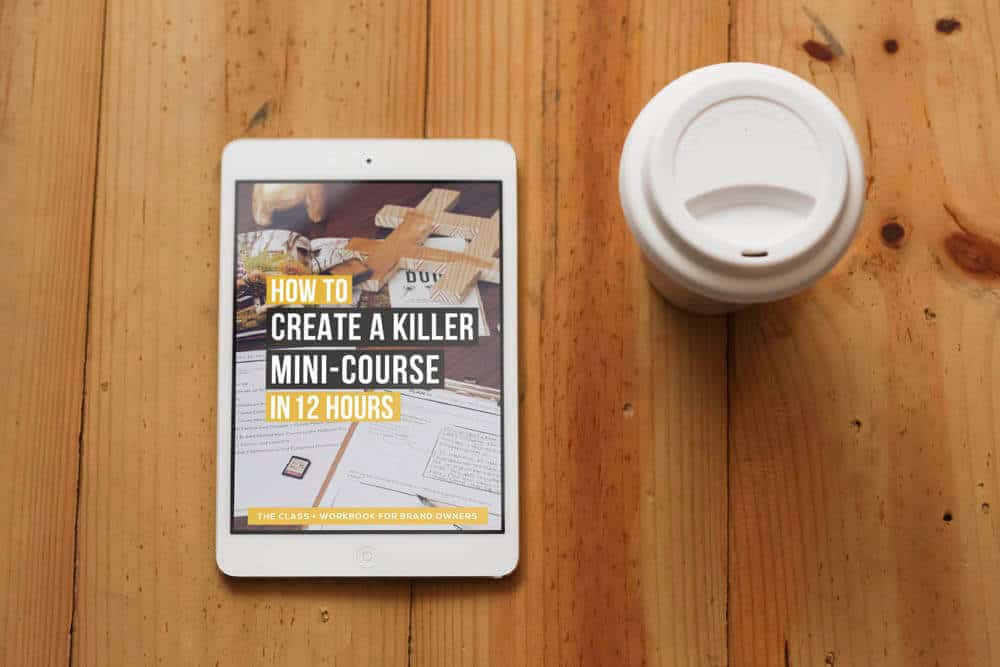 How to Make Residual Income: Create an Online Course (image credit)
Building a mini course for those who seek valuable help for their needs is always a great way to earn a residual income. Your mini course can be just about any topic as long as it's something that people are looking for. There are a lot of niches that you can talk about and teach others with. It's just a matter of having the right amount of knowledge about them and finding people who'd be interested in them.
A mini-course can pretty much be on anything you know enough about and that there's a demand for. Examples of possible mini-courses include:
How to start a blog
How to build your own chicken pen
7-day intro into yoga
A language course
Beginner's guide to using a DSLR
And so on, the options are literally endless. You can then either sell your mini course to sites like Udemy or Skillshare or promote and sell your course via an email series using auto-responder email services like aWeber and hosting your videos via Vimeo or Wistia.
The above mentioned examples are only few of the many ways you can earn from a residual income. Any of these ways will always pay off if the initial work is done very well. Your initial efforts matter a lot in how it will work out in the future. So whichever you choose, it's a must to give out your best from the very start.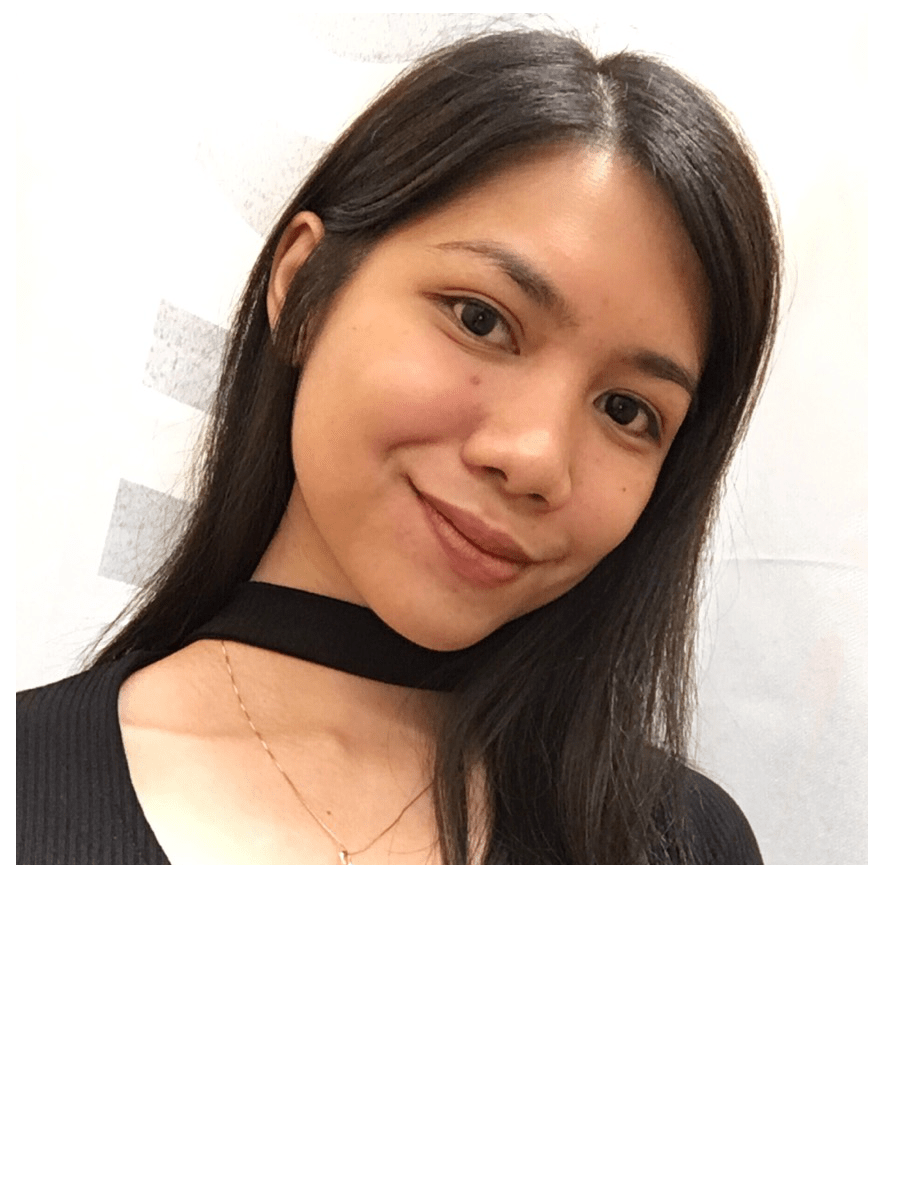 Christine Katherman
Freelancer
Christine has been working in the field of freelance for just over 7 years, specializing in copy-writing, social media and voice-overs.
Describing herself as a "social media bee 24/7", Christine has an undying passion for photography and music.