Hunting for jobs is never easy. It can require a lot of time, effort and even money. But in spite of it being unideal, job hunters will always take the risk because of the need.  Thankfully, new age technology has opened doors that transcends physical boundaries of the traditional workplace. Freelancing, or independent working, has become the best and most ideal route for many job hunters. Thanks to technology and the willingness of companies to work with them, there's no longer the need to suffer the consequences of conventional job hunting. With that said, let's get started with our ultimate guide to freelancing!

What Is Freelancing?
In order to appreciate the advantages of freelancing, let's dig deeper into what freelancing means and what it is all about.
Freelance is a term associated to self-employment and independent working. A person who does a freelance job is called a freelancer. A freelancer offers services without the need to work under a company or a specific employer. They can work for multiple clients at a time and operates as their own boss. They also set their own service price and decides their target market. Freelancers are flexible. They can set their own work hours. They can also work full-time or part-time depending on their preferences and the job that they would decide to take. When it comes to choosing projects, they are allowed to reject or accept whichever they would prefer.
Why Should You Be a Freelancer?
Whether you're a fresh graduate or just someone who is looking into getting a job for extra income, freelancing is a route you can definitely take. Here are some of the reasons why you should do freelancing.
Main or Additional Income
A lot of people would do freelance for the sake of extra income. But there's a lot more people out there who actually treat it as a main income source. This is because, the freedom that a freelancer has in taking as many jobs as they want actually facilitates them, since it opens up the opportunity to a much larger amount of monthly income than those who work in an office setup.
Opens Up New Career Routes
Most of the skills that are in demand with freelancers can be learned or acquired. You can learn a certain skill in order to get more freelance projects and earn more. This could also open you up to new career routes which could be helpful long-term than if you stick with what you already know.
The Pleasure of Working From Home
If you're one of those people who got into freelancing to reduce expenses or the effort to get to work every single day, then you're definitely on the right track. Freelancing gives you the pleasure of working from home. And on days when you're out of town or something unexpected comes up, you can still continue working as long as you have a reliable internet connection and a laptop. In other words, your workplace is wherever you choose it to be!
Flexibility at its Finest
When it comes to flexibility, freelancing has it all. From being flexible with the hours you spend, to where you will do your tasks – the decision is up to you! As a freelancer you hold yourself accountable. You take the initiative on how to accomplish tasks and where you want to work. It's all in your hands. Because of this, freelancers gain valuable skills in self-discipline, scheduling and time management. It's so flexible that to some it doesn't really feel like work at all.
Headstart in Perfecting Your Portfolio
The more work you do, the better your portfolio will look like. If you intend to work as a freelancer for a long time, you definitely need to build up your samples for future employers to look at. With freelancing, building your portfolio becomes like a natural thing. You don't have to spend extra time to create samples just so you could have something to show them. And in some cases, you can even have testimonials or feedbacks written by your previous employers to prove that you're worth hiring for.
No Suffocation in a Corporate Closet
There's definitely a huge plus of not being tied up to the rules and limits of a corporate company. You don't have to be under someone's "reign". You have the power and right to control everything you will do with your work and your time. You don't have to suffer the problems that come with having a boss or someone above you which oftentimes would even cause you unnecessary stresses. You no longer have to answer to anyone but your clients and yourself.
Satisfaction For Your Creative Impulses
When you do work with little to no stress, you accomplish a lot. You get to enjoy whatever you do for work. Many creatives find that the restrictions, limitations and daily stresses that come with working in an office environment can stifle their creativity. Without such restraints, their creativity is able to flourish and that's when they become most productive. With freelancing, you get to enjoy expressing your creativity to its maximum potential. For some this is due to the fact that they can work in a stress-free environment, whether that be their own studio or within the comfort of their own home. To others, it's simply the variety of work that freelancing provides as no two projects are the same. This set up enables some freelancers to truly be 'living the dream' wherein the motive of every job they take isn't purely because they need it, it's because they want to do it.

Types of Freelance Jobs
There are several types of freelance jobs but among them all, here are the most common ones that are on-demand in the online world today:
Freelance Writer
Freelance Virtual Assistant
Freelance Web Designers
Social Media Manager
WordPress Blogger
Web Developer
Bookkeeper
Online Tutor
Medical Transcriptionist
Data Entry
Check out our article on the 7 types of freelance jobs for a more in-depth review on what they involve and how you can get started with each.
Advantages of Freelancing
Fast to get started
If you are looking into getting a job right away, freelancing is your best place to go. Your freelance job starts as soon as you find your very first client. The quicker you find one, the sooner you will start earning.
Easy to start on
It's very easy to get started on freelancing. If you don't have any potential clients yet, you can start with your network of friends and family. You can start promoting yourself to them or ask them to help you promote yourself to others they know that would need your service. And because you are your own boss, there is no need for any unnecessary paperwork to start doing business with someone.
Less Expense
You don't have to pay for gas or for commuting fees just to get to work. You don't have to have any extra expenses that come with it too because you now get to work at home or wherever is most convenient for you. If you try to compare the expenses you have with working at home versus working in the office, you will see a huge difference between the two. Working at home always means less expense.
Huge Demand
There is a huge demand for people like you all over the world today. One of the reasons for this is because many companies only need to hire someone for a certain period of time or until a project is complete and freelancing enables them to do just that. What's more, it's also generally a lot cheaper for them, employers no longer need to spend a lot just to hire an expert for a particular project. The way the system is set up is made to be incredibly ease too. Just a few clicks and a job is posted or your job application is sent. You can be confident that even if you are new to freelancing, there will be someone out there who is in need of your service you can provide.
Flexibility with Schedule
Freelancers can be flexible with their schedule however they want it. Though the employers or clients set rules in some way, it is still up to the freelancer how they are going to get the work done. If you have a fast turn-around process, then you can definitely enjoy the rest of your day. Compared to full time workers, a freelancer can handle their time management any way they want as long as they get the job done and submit their output on or before the deadline.
Profit Hoarding
Nothing is better than being able to hoard all your profits into your pocket. With freelancing, this is the very case that you will get to enjoy. You can work as much as you want, however you want and whenever you want plus you get to keep all the profits to yourself. You don't need to have deductions or pay for fees. You do the job, you get paid and that's it.
Quicker Payment
Getting paid is as easy as 1-2-3. All you need to do is to just get the work done then you get paid right away. In some cases, a freelancer can also demand for a 50% down payment first or payment first before getting started on a project. But in most common cases, they get paid as soon as they finish.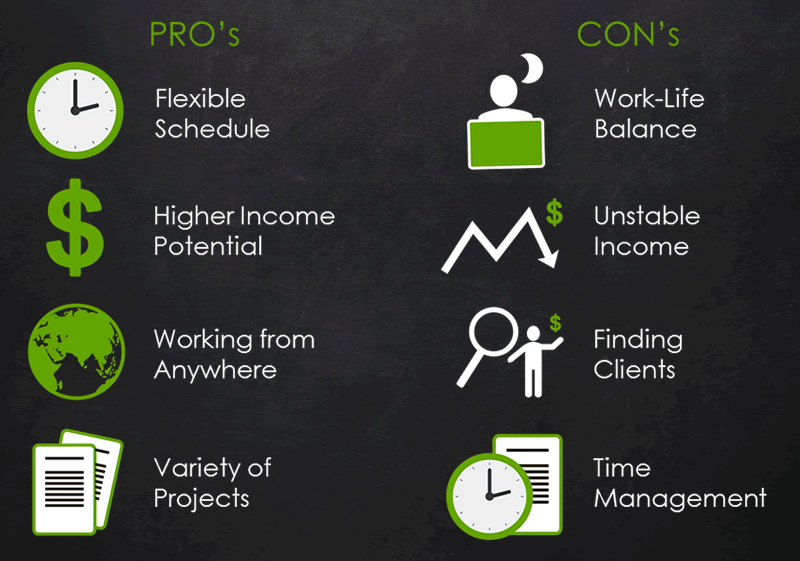 Disadvantages of Freelancing
Can take time to build clientele
Everything takes time including when you build your own clientele. Although there is a high demand for freelancers right now, it also means that there's a lot of freelancers out there chasing potential clients. But if you have the patience to wait for the right one for you, you'll get started in no time!
Work can be irregular
There will be times when your work can be irregular. Freelancing is your own effort. If you don't work hard enough to find yourself some clients or projects to work on, you will experience a bit of a dry land. For the most part, you won't be able to depend on any regular project, client, or profit whereas you would know the exact pay you'll receive at a traditional job. However, as you build your clientele list over time this becomes less of an issue as you can start charging more for your services (since you are more experienced) and so can take on fewer but higher paying jobs or you can keep in touch with old clients in order and get the occasional job from them or through client referrals.
Challenging
Just like any work or even dream jobs, challenges always come with it. In freelancing, you will be faced with multiple projects at the same time. You will be doing business with multiple clients as well. This can be very challenging, especially when you're just starting out. But as with most things in life, it gets easier with time. Some even work well under pressure and enjoy the challenges that come with it. Either way, if you want it bad enough you'll always be able to find a way to make it work for you.
Low Pay to begin with
Everyone starts from the beginning including those who call themselves experts. If you are looking into earning a lot of money right away when you're just starting, you shouldn't do this type of job. You will have to start with a low pay and it may seem negative. But you can always choose to focus on the right perspective and see this as a driving force to keep going.
Taken Advantage
Because of the lack of face-to-face interaction in online jobs, it is much easier for some to be scammed. Whilst uncommon, there are cases in which workers don't get paid or are paid very little than the minimum or what they actually deserve. It's possible to get taken advantage of by bad employers and scammers. That is why it's important to do research on the employer or company beforehand to ensure they are legitimate and to clearly state your rates or have an agreed upon price before starting a job. Whilst there may be some leeway around prices and working hours, do not think that it is demanding of you to want clear documentation of what the job entails. Remember, you are your own business and must put the protection of yourself and your business before anything else. If you follow these basic principles, then this will help you to avoid dealing with bad employers and scammers, or at the very least minimize your encounter with them.
Inconsistency in Monthly Income
If you are looking into getting consistent monthly income, freelance might not be the best one for you. You would need to take a full time job in order to get one. On the other hand, you can also accept as much projects as you can that would meet your monthly goals.
Personal Vs. Work Life
One of the best things about doing freelance job is being able to work at home. However, it can also be one of the greatest disadvantages. Some freelancers find it difficult to distinguish between personal and work life. This means that they can work long hours and never make time for their personal interests. Hence, many freelancers find having good time management and a proper schedule absolutely crucial in providing a separation or balance between the two.
How to Become a Freelancer
Decide What You'll Offer for a Service
Know your skills and see if there's any other skills that you can learn or develop in order to become more effective. You can list your skills down and see if you have what it takes to be able to offer a quality service to your possible clients.
Determine Your Target Market
Know who it is that you would want to offer your services to. You can define your market by what type of clients you'd like to work with or what type of work you enjoy doing the most which usually coincides to where your strengths lie. For instance, if your chosen field is freelance photography, you may decide to specialize in wedding photography. Once decided, tailor your brand and promote yourself on appropriate platforms accordingly.
Create an Online Portfolio
Once you've determined your service and target market, it is necessary that you create your online portfolio or freelance profile. With this, you should write down everything that you think your client should know about you in order for them to have confidence in hiring you for your services. Think about all your related achievements and state them there. If you also have offline clients that you've worked for or companies that you've served in the past, show it on your profile as well. Write down basically everything that will showcase what you can do.
Set Your Rate
You should know how much you are willing to get paid but be sure that this also matches with your skills and experience. Don't just set a rate that you're comfortable with or think that you should be paid for. Be fair in setting your price. And if you seem to have a bit of a higher rate than the common rates, leave some space for adjusting your price. You don't want to just get paid but you'd want to get a job sooner as well.
Start Reaching Out to Find Your Clients
It's probably your first time doing this. So it's best to start by researching for the best websites for freelancers. But once you start posting your profile and start on your applications, make sure that you're also ready to get started anytime from then.
Wait and See
You can start with submitting just one application and wait for feedback. Check out if the employer or person who posted the job is active. If they are, try to give it a few days. You will know if it's not worth the wait when the number of applicants are building up and they are still not responding. Some job posts are left without updated information. If this is how it is, you may go and proceed on submitting to other job posts until you find the right one for you.
How to Be an Effective Freelancer
Be Disciplined
Discipline is a part of everything successful. We need to be disciplined in everything that we do in order to achieve a lot of things. In order to become an effective freelancer, we must know when to start and when to stop. We should make sure we don't go beyond our limits or give too little of an effort on what we should give our best into. Being disciplined will take a lot of effort and sacrifice. But when you get a good grip on the rhythm of discipline, you will see how productive you can truly get with your work.
Be Organized
You don't have to be an incredibly regimented in order to be organized. You just need to do things in a way that suits your style of working most effectively. We live in a world full of distractions and unfortunately 99% aren't at all helpful towards our work. You have to decide whether you are going to stick to your plans for the day or let other things ruin your focus. A good way to organize your to-do's is to list them down and then color-code them in priority. Make sure this list of to-do's is accessible, whether you decide to write them down in a journal or keep note of them on your phone. It's an easy way to keep on top of everything without neglecting the attention that each of your tasks deserves.
Manage Your Time Effectively
Time management is very important for productivity. You may be given loose time-frames or ample time for each of your projects. You also have to remember to take breaks no matter how busy you are. Taking breaks is a crucial part of time management that many people forget. Within the very nature of our biology, we can only focus our attention on something for a given period of time. By allowing ourselves to take a break and do something different, it helps us reset and feel refreshed when we start our work again. If you tend to be one of those people who gets easily carried away with work, you could yourself alarms that remind you to take a break or shift onto another task.
Be Trustworthy
Honest workers are rare in this generation anymore. Be one of those who are trustworthy at the work that you do. Don't take shortcuts. Give your best at your craft. You will encounter privacy concerns with work where you are not allowed to tell others that you created an output they are releasing. Make sure you preserve the privacy that your client needs for the sake of their company. It's all part of your work ethics and professionalism.
Learn Proper Context-Switching
A lot of people call it multitasking. But multitasking makes everything go downhill. Studies have shown that it's not doing two things at the same time but switching contexts. If you do context-switching the right way, you will achieve a lot than if you had multitasked. Multitasking puts your brain in a too pressured state which will make you end up not giving the amount of effort each task needs. It makes you think that you are hitting two birds with one stone but in reality, it's the opposite.
Desire Learning & Improvement
Every worker must desire to learn more and improve in their craft. Otherwise they will stay on the same level where they've always been. In order to improve, one must be willing to receive and accept feedback for their work that may not be encouraging to hear. If no feedback is given, encourage your clients to give you that with every task you do. It will help you see where you are in your skill and what you need to improve. If you want to be an effective freelancer, you should take these things as a challenge and a pushing force to be better instead of the opposite.
Finding the Right Freelance Job For You
Being new to freelancing is not as easy as most people think. You need to be guided in order to find the right freelance job for you. There's way too many deceiving posts and scam-motivated job offers on the internet anymore that's why you need to be extra careful with what you choose. In order to choose the right one, you must know the guidelines for it. Here are some very helpful ones that will help you get started.
#1 Clear Job Description
Don't be in a rush to take a job that has no clear job description. It will open you to possible abuse of your skills. Examine the job description and see if they are clear on the tasks that they will want you to do. Check their requirements if you have what they are looking for. See if the type and amount of tasks they'll be asking their hired applicant to do would be something that you'd be comfortable of doing. Some jobs require workers to do too much work for very little fee. In some cases, they are not very direct with what they actually need. See to it that the job description is clearly laid out so you know what tasks to expect when you get hired.
#2 Fair Rules
It is also important for a job to have fair rules. Read their job description carefully and see what their rules are with work. If not, you may contact the employer or the person who posted the job and ask for more information regarding this. Express your interest not only in getting the job but also in knowing if you'd be able to help them keep things at bay. If you see that the rules are fair for you, don't let it pass without sending an application. Check their rules that have something to do with the amount of work, the process of work, the turn-around time, plagiarism and other related things.
#3 Reasonable Pay
Let's admit it. You may just have started out with your freelance job hunt and you are so excited to get started. You start looking at jobs that may seem not the best for you but you're so willing to grab whatever is within your reach just to get started. But before you make any abrupt decisions, you also have to consider that your effort should be rewarded with just the right amount that would not seem abusive to you. Say for example with writing. Some employers are either greedy or have outsourced the job that was outsourced to them and they would offer a 500-word article at 0.001cents each. That's definitely way below the belt but it does exist! Don't rush into job offers like this only to get a job right away. Try to look around more. There will surely be other employers who would reward you with a just amount.
#4 Legitimacy
This is the biggest deal among all of them. If a company offering a job is not legit then it's the end of the story. Don't go further than knowing that. Before committing yourself to any kind of job online, you have to make sure that they are legit. If you think you have the chances of getting the job, do your research, ask questions and research some more.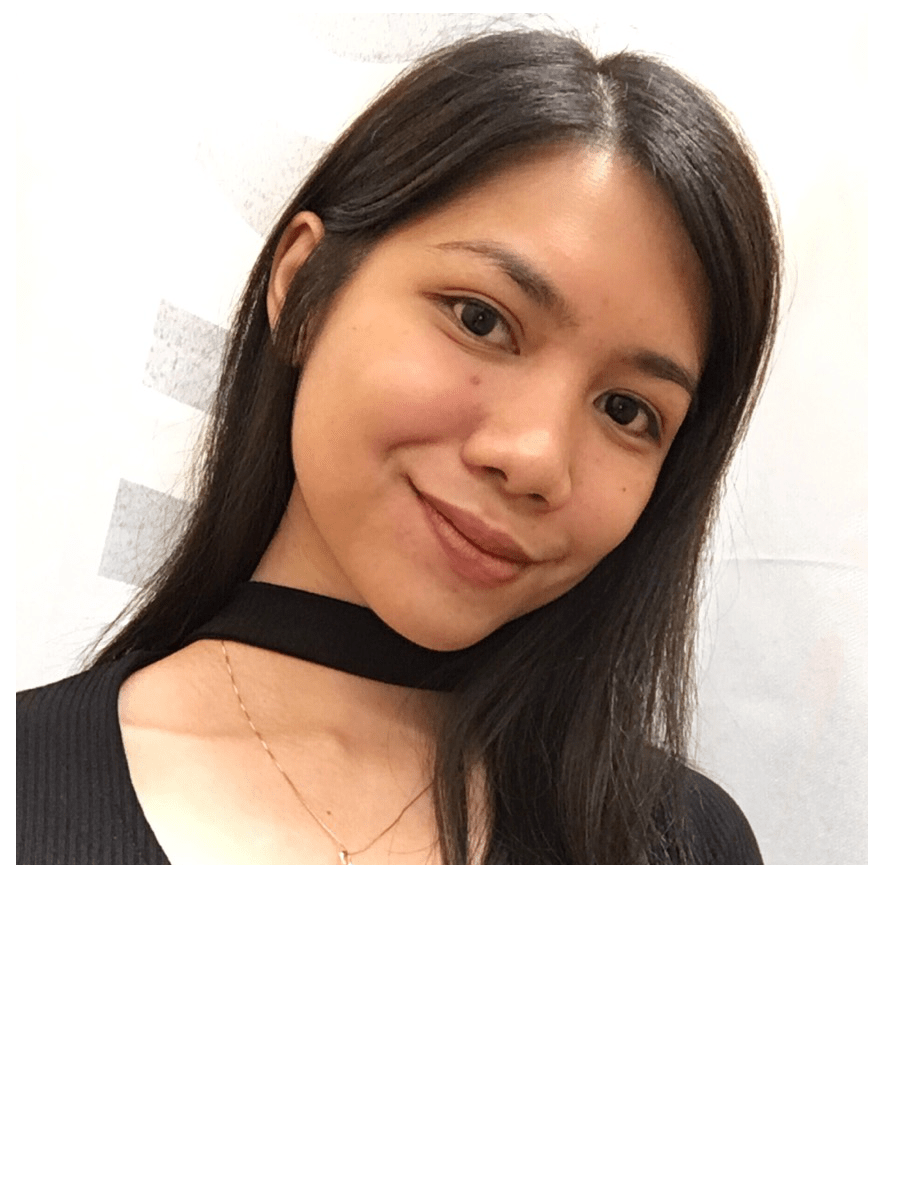 Christine Katherman
Freelancer
Christine has been working in the field of freelance for just over 7 years, specializing in copy-writing, social media and voice-overs.
Describing herself as a "social media bee 24/7", Christine has an undying passion for photography and music.