This post offers a general description of the types of websites commonly used by affiliate marketers. It's not meant to be an exhaustive list but MOST affiliate marketers will be using one or more of these types of website:
Authority site or blog
This is your main personal authority site and blog. Creating a blog website is quick, easy and cheap enough with tools like WordPress but it doesn't mean it will get any visitors from the off. It takes time to gradually build up an audience of regular visitors and readers and that usually comes off the back of writing great content that people want to read and share. As your readership grows and the number of informative articles, then your website blog will gradually start to gain more authority with search engines like Google. Then the higher the authority, the higher your site will appear within the search engine results pages (SERP's) and it becomes possible to then monetize your site by talking about and promoting 3rd party products which you link to using affiliate links to earn a commission from every sale.
Microsites
Sometimes called MINI SITES, these are specialist niche websites aimed at very specific target customer groups. They can either be content rich so they perform well in long tail search results for the particular niche, or they can be designed purely to drive paid traffic to.
Landing pages
Standalone pages designed to promote a particular product or service which you direct people to from your authority or microsites. Such landing pages can also be used to build an email marketing list by offering something of value away for free, such as an informative ebook for a particular niche.
Sales pages
Standalone pages that sell products or services which you direct people to from your email list or landing pages. These often have a sales funnel where upsells or even downsells (such as those triggered when buyer tries to close the browser window) are offered.
Affiliate marketing websites summary
Generally speaking if you going to be undertaking paid advertising to drive traffic to your website, then you will seek to drive PAID ADVERTISING traffic to your main authority website and any niche microsites you may have (very few affiliate marketers use these but they can be very effective if done well and if on a subject you are passionate about). Driving paid advertising directly to a landing page could be very dangerous as most of the leading advertising platforms like Facebook, Google and YouTube will not allow this in most cases so be careful as your account could be closed down or Google could give you a 'slap'. Authority sites and sometimes microsites also generally perform better over time in organic search engine listings as the content you add to these sites is (or should be) unique and relevant to your target audience.
The more VALUE you can offer PEOPLE on these sites the better they will generally perform in the search engine listings and of course if your site manages to get onto page 1 of Google (in the top 10 listings for the search term entered) then this will surely result in FREE TRAFFIC and could therefore lead to 100% PROFIT on any sales commissions you can subsequently generate! I know of affiliate marketers who earn tens of thousands of dollars a month in affiliate sales commissions PURELY from free traffic sources through strong organic SEO results to their main authority site. DON'T EXPECT FAST RESULTS but if you write good quality content consistently then over time you can expect to start generating results. INPUT (time) equals OUTPUT (sales).
How to avoid the most common pitfall in Paid Advertising to affiliate marketing websites
Perhaps the most common pitfall novice affiliate marketers make when starting out in paid advertising on Google is having their website seen as a 'bridge' website and then Google closes down their campaign and account. Google will consider your website to be a 'bridge' site if you have banners on it that link to other websites. Think of it from Google's point of view. What they want is websites to offer VALUE to people who are searching for something. If an advertiser pulls people to their website via their advert only to have them click on a banner and link to another website to buy something then your website is merely acting as a 'BRIDGE' to that other website and is not offering real value to the person who clicked on the advert at all.
I could not advertise ukandoo.com on Google due to the banners I have on this website even though I most certainly do offer great value and information so even in my case this website would be seen as a bridge site even though the banners I have on this website are carefully selected to support the posts I write with recommended products, tools and training that I fully endorse and all of which I use myself. But advertising ukandoo.com on Google is not part of my strategy for this website. I have other websites without adverts which I do advertise on Google and which are geared towards offering value and list building by offering complimentary information products like free video training or webinars. This website is my authority blog and my strategy for this is to keep building a following from organic search only – it's what I call an 'Organic Destination Site'. My daughter on the other hand has her main authority site as her main website to which she drives paid traffic as she ensures she keeps offering great value and doesn't put banners on her site – once again she offers free and useful training or information in return for an email address and the REAL MONEY from affiliate marketing (when it starts to become a 'business' and not a part-time 'pocket money' hobby) comes from having and building your OWN mailing list.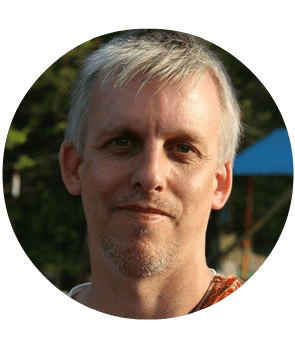 Duncan Bradford
Founder of Ukandoo Academy, Kuki Ventures
I founded Ukandoo after working 20 years running successful digital agencies and managing online marketing for many companies. The opportunity to teach people how to succeed online became a burning passion and is now a reality.
On a less serious note, I have a passion for foreign food, travel and loves adventure motorcycle touring.